RC Paramotor kit ARTF Hybrid 5.2 / Backpack XL / Pilot Tom
Long flight cessions into perspective thanks to this steady and reliable model. You will reach the thermics in no time and you may risk wishing to never leave these.
Hybrid 5.2
The Hybrid 5.2, is the ideal wing for outdoor activities such as pure slope soaring or paramotoring. 100% suitable for beginners, advanced and experienced pilots. For those who want to have a 5m2 wing with 5.25m wingspan featuring Hybrid technology, this is the wing you need.

The development based on the combination of the single skin and double skin technologies, the Hybrid 5.2 offers the advantages of both. Because  every pilots expect an easy take-off, steady and reliable model, this wing won't fail you. Compare to a jelly, this wing won't wave in the air.The controlling accuracy is also significantly increased, meaning really fun flight sensations that will make you enjoy long flight hours!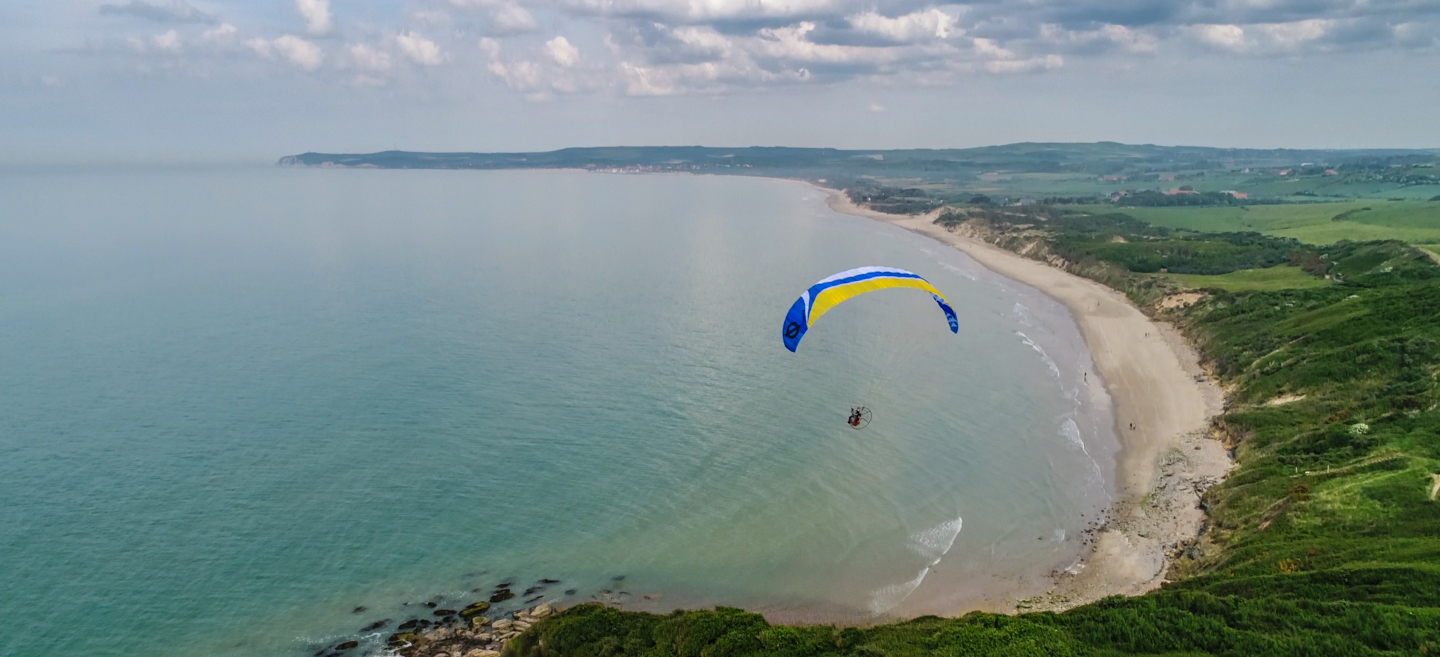 Wing features:
| | |
| --- | --- |
| Flat wingspan [m] / [ft]: | 5.25 / 17.2 |
| Flat area [m2] | 5.2 / 56 |
| Ratio: | 5.3 |
| Cells: | 30 |
Hybrid 5.2 content:
1 x Hybrid 5.2
1 x fabrics repair kit
1 x bridle repair kit
1 x innerbag
Backpack XL
Using the big 18 inches Opale Paramodels carbon propeller you will  significantly reduce the noise, and in the mean time, increase the motorization efficiency. Therefore you will only need between 25% and 50% of throttle in order to get the same thrust than a wood propeller at its highest efficiency.

Thanks to the mechanical resistance of the materials, the Backpack XL is almost indestructible. In combination with the new pilot TOM it's one of the best combo we ever produce. Its design so reel and refined brings a unique touch to the whoie thing. After mounting TOM you will no longer see the pilot plate, it simply disappears inside the Backpack XL. This part goes inside a dedicated pocket located in the Kingair Evo harness and bring a higher stability. Besides to add some ballasts or to replace the batteries, there is plenty of room inside the lower pocket. Another benefit and not the least of this combo, is that you can remove TOM from the Backpack XL, in 2 minutes, whenever you decide to go for a slope soaring trip.
Backpack XL Features:
| | |
| --- | --- |
| Dimensions [cm] / [in]: | 53x53x31 / 20.8x20.8x12.2 |
| Minimal mass in order to fly [kg] / [lb]: | 5.2 / 11.5 (including pilot Tom / frame / motorization) |
| Maximal mass in order to fly [kg]: | 12 / 26.4 |
| Materials: | Steel / Aluminium |
| Risers spacing [cm] / [in]: | 22 / 8.5 |
| Motorization [W]: | recommended wattage from 2000 up to 3500 |
| Propeller size [cm] / [in]: | 46 / 18 |
Backpack XL content:
1 x Backpack XL frame
1 x propring
1 x hardware kit
Pilot Tom ARTF and Kingair Evo harness
With its significant size 70cm (26.1in) (scale 1/2.5), the last born of the Opale Paramodels pilots range is a true masterpiece of engineering.
A frontal dedicated pocket allows to easily grab the harness for a manual take off. And that's not all, to increase the realism, a rescue parachute handle and 2 brake handles, very similar to the legitimate ones, are also provided.
Associated with the latest harness Kingair Evo developed by Opale Paramodels in Europe, the visual appearance has never been at this very detailed level before! The straps and the compartments make that harness the most convenient on the RC paraglider market.
Find out more informations here
Pilot Tom features:
| | |
| --- | --- |
| Scale: | 1:2.5 |
| Height [cm] / [in]: | 70 / 26.1 |
| Materials: | Polyurethane resin / Nylon PU / G10 |
| Servomotors (pilot's arms): | 2x 24kg/cm servos (size: 66x30x60mm / 2.6x1.2x2.4in) |
| Servomotors (Speedbar system): |  2x 10kg/cm servos (size: 40x20x40mm / 1.6x0.8x1.6in)  |
| Empty weight [kg] / [lb]: | 2.25 / 5 |
| Maximum weight [kg] / [lb]: | 10 / 22 |
Tom ARTF kit content:
1 x pilot Tom frame
1 x flight suit
1 x Kingair Evo harness
1 x hardware and accessories kit
1 kg of ballast
Included in this kit:
1 x Hybrid 5.2
1 x Backpack XL
1 x pilot Tom ARTF
1 x Backpack XL motor kit (motor+ESC+propeller)
Required and not included:
2x 4S 4000mAh Lipo battery (in serial)
2S 2000mAh Lipo battery for Rx
Mixer for RC paramodels
Transmitter 2.4Ghz with receiver
Battery charger