Hybrid 5.2
Since we introduced the Pilot Tom combinated with the Backpack XL or the Trike XL, we've been thinking that it was necessary to provide an Hybrid wing to this range of model. So after the development of the Hybrid 1.8 and the Hybrid 3.0, we've decided to develop a 5m2 wing. That's how the Hybrid 5.2 was born. We voluntarily made this shift, and reach our goal, by bringing on the market the biggest wing featuring the Hybrid technology. By reaching the limits of feasibility, we firstly preserved the advantages of the Hybrid technology and on the other hand we improved the wing. As a matter of fact, during the development of this wing, we focused on increasing its speed range but we also kept in mind to preserve the basic characteristics of this wing which are the reliability, an easy handling and an outstanding steadiness.

The new Hybrid 5.2, is the ideal wing for outdoor activities such as pure slope soaring or paramotoring. 100% suitable for beginners, advanced and experienced pilots. For those who want to have a 5m2 wing with 5.25m wingspan featuring Hybrid technology, this is the wing you need.

Because our customers are seeking for models with our name on it, which is a warranty of quality. The Hybrid 5.2 is a unique profile compare to the hybrid technologies available on the market. The development based on the combination of the single skin and double skin technologies, the Hybrid 5.2 offers the advantages of both. Because  every pilots expect an easy take-off, steady and reliable model, this wing won't fail you. Compare to a jelly, this wing won't wave in the air.The controlling accuracy is also significantly increased, meaning really fun flight sensations that will make you enjoy long flight hours!

When a pilot does a control error or when the model collapses, the wing inflates itself and recovers quickly. The wing prooves at the Prowing exhibition in Germany that it can handle a lot. With the 30km/h windspeed this wing was still going forward. The visual signature of this Opale wing will make you recognize, without any doubt, the front from the back of the wing, even from a great distance.

But We did not have only work on this wing. The premium packaging is made in the highest quality. It provides more space to carry the wing and hold it without being pressed. It also provides seperate pocket for spare parts.
It's made with breathable fabrics that will allow you to dry out your wet wing. All of this will definitely increase your wing lifespan.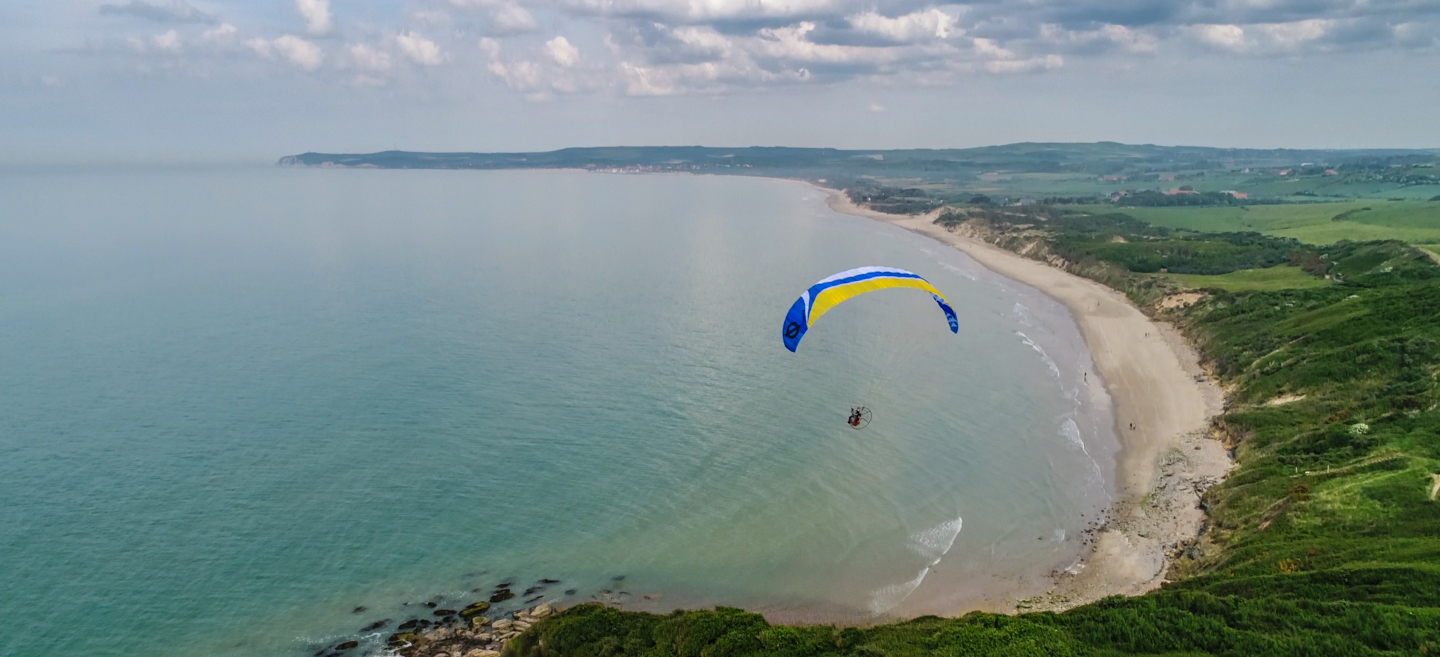 Compatibilities:
Backpack XL
Trike XL
Pilot Tom
Features:
| | |
| --- | --- |
| Flat wingspan [m] / [ft]: | 5.25 / 17.2 |
| Flat area [m2]: | 5.2 / 56 |
| Ratio: | 5.3 |
| Cells: | 30 |
| Bridles: | Aramid 50 daN spliced - DFL 70 |
| Fabrics: | Nylon Ultralight fabric 20D 32gr/m2 |
Included:
1 x Hybrid 5.2
1 x bridle repair Kit
1 x fabric repair Kit
1 x innerbag