Power 2.7
You're looking for an accurate wing that reacts to the finest command? Well, this wing will exceed your expectations. After the huge success of its little sister the Power 1.1, our customers were eager to possess a bigger wing with the Power 1.1 features. As the Opale Paramodels team always challenged itself to meet your expectations, we developed the Power 2.7. Perfect for outdoor activities, this wing will blow the mind of the beginners as much as the expert pilots.

The easy handling being the most basic feature that you would expect from an Opale single skin wing, the Power 2.7 is naturally gifted to dance with the wind. During the first soaring flights, we've been very surprised by the high efficiency of the wing, only loaded with some ballasts, facing into a 35km/h wind. The wing cuts the trajectory as a sushi chef would cut a maki with his knife. Besides in combination with a Backpack L and a Lucas the wing did not flinch and the handling is just the same, a piece of cake.

The Power 2.7 did a big impression on us when we flew over the US canyons. According the strong and changing wind conditions we've been facing when we flew, we can truly say that the Power 2.7 was tested under the toughest conditions. These were unforgettable moments.

And for those who think that we just rescaled the Power 1.1 to get this wing, let us tell you that this wing was developed and designed from the drawing board to the production model with the same longing for perfection than any other Opale wings development. And the result is simply astonishing.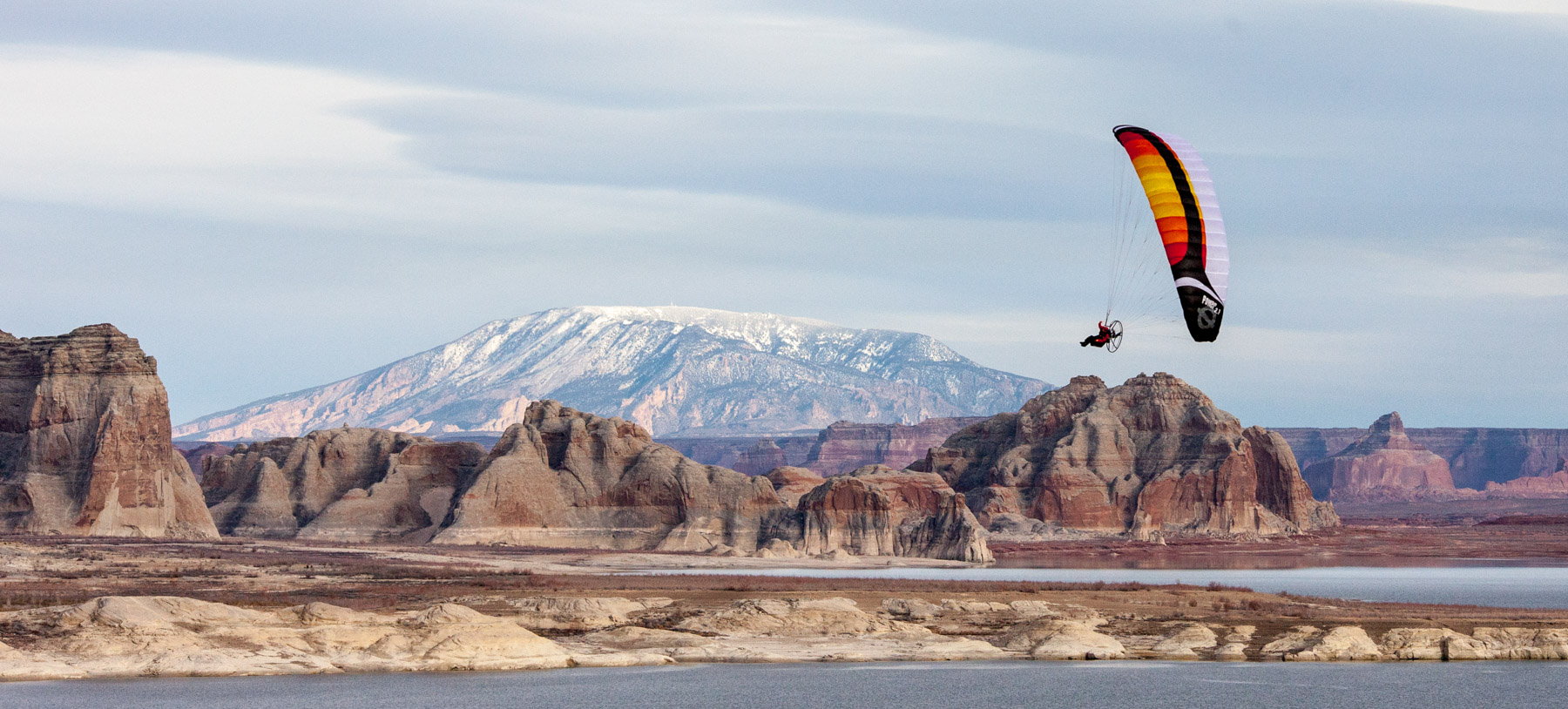 Compatibilities:
Features:
| | |
| --- | --- |
| Flat wingspan [m] / [ft]: | 3.67 / 12 |
| Flat  area [m2] / [ft2]: | 2.7 / 8.9 |
| Ratio: | 5 |
| Cells: | 27 |
| Bridles: | Aramid 25 / 50 daN spliced - DFL 70 |
| Fabrics: | Nylon Ultralight fabric 20D 32gr/m2 |
Included:
1 x Power 2.7
1 x Bridle repair Kit
1 x Fabric repair Kit
1 x Innerbag